Speaker Cable
This is our new awesome speaker cable, the Apex. It has been designed exclusively for on line shoppers. It offers many extra features at a very competitive price point. We have spent a great deal of time listening to different wires and configurations to achieve a sound that satisfies. The wire is 4 X12 awg resulting in a combined 10awg cable, high conductivity OFC. Just lifting it gives you an
idea of the quality. It weighs a ton. We take this wire and put it into twisted assemblies, each containing 2 separate runs. These twisted assemblies naturally reject pollution. No shielding is used resulting in a very open, transparent sound. Cotton Fiber fill yields a very natural sound, Those who know Aural Thrills Audio cables will be familiar with the great detail, bass extension, and live sound that is the sonic trademark of all our products.
Gold Plated Audioquest Spades

2m long (7 feet)

Price is for a PAIR!

Audiophile Quality

12 awg per conductor X 4

Combined 10 awg

High Conductivity Oxygen Free Copper

All connections are chemically cleaned and preserved

Made in USA

60 day satisfaction guarantee
The resulting sound simply must be heard to be believed. Bass is awesome. Detail is equal to the best in the world. Transparency and gigantic soundstage in abundance at a great, on line price.
Just a word about Aural Thrills Audio. We are a personal, upscale, company that builds and tests custom cables one at a time. We are located in the USA. We run only one company, 24/7 and strive for your complete satisfaction. Please check out our 100% positive feedback over a ten year period. The goal is to be the best high end, custom cable company by designing and producing innovative products to order. Our audiophile grade of wire is made exclusively for us and is created using base metals of 4 nines or better. The innovative engineering and designs make us a leader of high tech, cables. In closing we want to thank all of our present customers and look forward to making many new ones.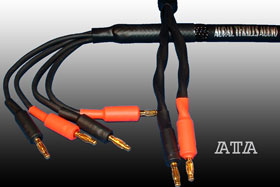 Email if you need additional length. All cables are burned in on the Hagerman Fry Kleaner, professional model, for at least 48 hours. I am so sure that you will love these cables that I am offering a sixty day return policy. (does not include S/H or Paypal fees, if applicable)
Home | About Us | Dealers | Contact | Policies
Copyright Aural Thrills Audio 2006