SILVER BIG ONE
As you know, silver is considered the best conductor because of its low resistance. It has great detail and huge amounts of air and space between instruments. The main drawback of silver is the brightness that it sometimes adds to the sound. I have addressed this issue by using EMI/RFI filtration. All electricity entering your home is polluted with radio signals that have been picked up by the transmission lines which act like antennas. I have spent a great deal of time listening to the different strengths of Ferrites to achieve the perfect balance. The upper, noise carrying frequencies of the electricity, not the source signal, have been eliminated. This creates a silky smooth, natural sound, which still retains all of the good points of silver. The 10 gauge wire will allow maximum flow for all amps. All connection points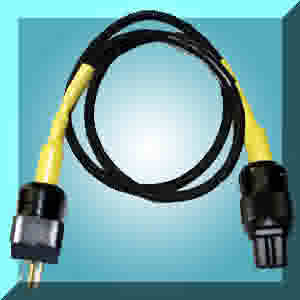 are chemically cleaned and preserved for the ultimate in transfer properties. Your music will emanate from a dead silent, black background like you have never heard before. If you choose, please audition this great sounding cord for thirty days and if you do not agree that it is one of the best sounding cords around, simply return for a full refund of the purchase price.* Shipping is $10 to anywhere in the continental USA.
Teflon Insulation

600 Volt Rating

Four Feet

10 gauge for all conductors

Cryo'd high grade Wattgate plug

Cryo'd Wattgate IEC

Chemically treated contacts

RFI/EMI Rejection

Best looking cord around!

Pure Silver clad wire
The Edison and IEC connectors are the famous Wattgate Brand. They have been cryo treated. The result is a more open sound with the sound of NOS tubes. Rich but still detailed. Upgraded Wattgate also available. Email for details.
The care that goes into making a pair of these is evident in the details and quality of materials being used. I have isolated every sound quality by many, many, hours of critical listening. From the solder, to the RCA connectors, to the wire being used, I know exactly what each element brings to the sonic table. It is by careful mixing of each harmonic ingredient that I have arrived at this design. Please do not compare these cables to the Chinese or cheap cables widely available. These are a true audiophile design and you will hear the difference.
Just a word about Aural Thrills Audio. We are a personal, upscale, company that builds and tests custom cables one at a time. We run only one company, 24/7 and strive for your complete satisfaction. Please check out our 100% positive feedback. The goal is to be the best high end, custom cable company by designing and producing innovative products to order. Our audiophile grade of wire is made exclusively for us and is created using base metals of 4 nines or better. The innovative engineering and designs make us a leader of high tech, cables. In closing we want to thank all of our present customers and look forward to making many new ones.
Normal 4 feet Price $399.99*
On Sale Now